Coach Evaluation Software
Replace the coach evaluation forms and spreadsheets with our easy-to-use and completely customizable coach evaluation app. Now you can streamline all coach evaluations with our comprehensive evaluation software platform that saves you tons of time, and gets you better results. TeamGenius is great for player feedback and tryout evaluations, too!

 
Software Trusted by Top Youth Clubs and Associations







1) Customize your coach evaluation criteria
Create your coach evaluation form in our completely customizable assessment builder. Enter criteria like communication, leadership, and coaching ability. Then, finish preparing for coach evaluations by importing your list from a CSV, SportsEngine or TeamSnap.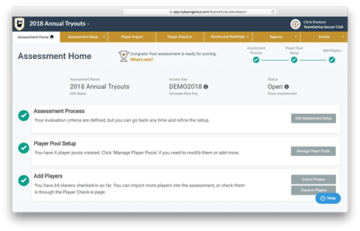 2) Replace paper coach evaluation forms with our easy to use mobile app
Coaches, players or parents simply download our mobile evaluation app on their phone or tablet, then enter ratings for each coach, and add comments. The app even has an offline mode in case you have a poor or non-existent internet connection.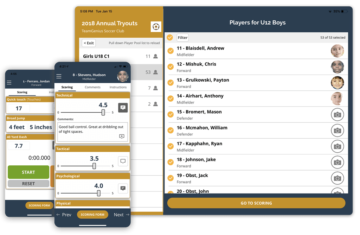 3) See immediate results, share reports, and communicate feedback
See detailed evaluation reports and data so you can share encouraging coach feedback and manage on-going coach development. Use our email templates and group sending capability to send coach feedback reports out with ease.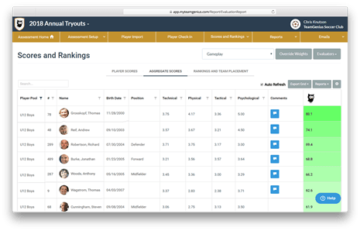 Loaded with features to help you streamline coach feedback & evaluations
Build custom coach assessments
Import coaches from TeamSnap, SportsEngine or a CSV file
Evaluate coaches right from your mobile device
Use our powerful coach analytics engine
Email results and feedback with one click
Does the mobile app require WiFi?

Nope. The mobile app is fully functional in offline mode if evaluators have a poor connection.

How does TeamGenius help with coach development?

Coaches can be evaluated multiple times during the season with TeamGenius. Your evaluation data is saved and becomes more valuable as you build a history for each coach!

What if a few parents or evaluators don't want to use a mobile device?

TeamGenius has multiple options for entering data. Evaluate using our iOS mobile app, Android mobile app or web-portal.

Can I try TeamGenius for free?

Sure thing. Get Started with a 30-day free trial. No credit card required!
Get Started Today!