Lacrosse Player Evaluation Software
Switch to digital player evaluations for lacrosse tryouts, lacrosse camps, lacrosse player feedback, and more. Now you can evaluate lacrosse players and teams through the TeamGenius Mobile App. You'll get player rankings and athlete evaluation reports instantly, and your coaches can easily evaluate and share feedback with players throughout the season.

 
Trusted by Top Lacrosse Clubs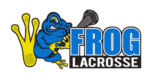 1) Customize your lacrosse tryout or player evaluation and import players
Customize your lacrosse evaluation criteria such as unsettled situations, team play, catching & throwing, defense and more. You can even create skills tests and timed drills. Then, finish preparing for lacrosse tryouts by importing your players from a CSV, TeamSnap or a SportsEngine registration.
2) Replace paper lacrosse evaluation forms with the TeamGenius mobile app
Easily rate lacrosse players, record times & reps, record video and add comments with the TeamGenius lacrosse tryouts app. Scores are automatically synced to the cloud in real-time. Browser scoring also available for lacrosse coaches evaluations and lacrosse player feedback & development.
3) See immediate player rankings and reports, form teams, and share feedback
Get detailed reports and data so you can properly form teams and send team placement offers and notifications. Then, use TeamGenius throughout the season to share useful player feedback and track lacrosse player development.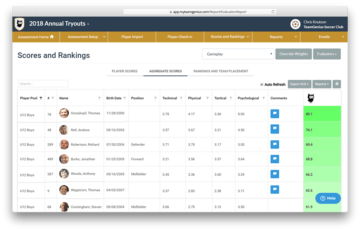 The complete lacrosse player evaluations solution for tryouts and feedback
Build custom lacrosse evaluations
Import players from SportsEngine, TeamSnap or CSV
Check in players on tryouts day
Score players with our mobile scoring app
See real-time player rankings
Use our powerful lacrosse player analytics engine
Easily assign players to appropriate teams
Email tryout or camp results and lacrosse player development reports
Does the mobile app require WiFi?

Nope. The mobile app is fully functional in offline mode if your coaches have a poor on-field connection.

Can I add walk-up players during tryout check-in?

You bet! Use our player check-in feature to assign numbers, add walk-up players, and group players however you would like.

What if a few coaches don't want to use a mobile device?

Print paper scoring forms with your criteria & players right from TeamGenius. Then, after tryouts quickly enter scores on a computer to view complete results & rankings.

Does TeamGenius support on-going feedback?

Most clubs use TeamGenius once at tryouts and multiple times throughout the season. Coaches can easily share feedback-focused report cards with players. Keep parents and players happy! Download a sample report card

How does TeamGenius help with player development?

Evaluate a player multiple times with TeamGenius and share a development report to communicate progress over time. TeamGenius will save your evaluation data and becomes more valuable when players are evaluated year over year!

Can I try TeamGenius for free?

Sure thing. Sign up for a 30-day free trial. No credit card required!
Get Started Today!