For most athletes – and their parents – youth sports tryouts can be a stressful experience. First, there is the pressure to perform well and make the team. Then there is the added anxiety of dealing with long lines at check-in and getting assigned to a tryout group. After getting through the actual evaluation, tensions rise again as athletes and their parents await results and rosters.
TeamGenius helps eliminate these issues. Find out why parents and players love TeamGenius's capabilities.
Easy Registration
The TeamGenius solution allows athletes to check into tryouts faster. The application lets teams enter player information into the application before evaluations begin. This allows staff members to easily check players in and provide a tryout number and group immediately. Making the check-in process more efficient prevents athlete and parents from standing in long lines and helps get players into warm-ups quickly.
More Accurate Scoring
Even when an athlete has a great tryout there might still be a fear that the final scores could be miscalculated. When club staff members tally scores manually, there is a risk of human error — either through a typo or a miscalculation. TeamGenius takes that fear away. The application automatically tallies player scores allowing parents and players to trust their results are accurate.
TeamGenius also removes the risk of mis-ranking players. For teams who manually rank players, the process can involve staff members moving players up and down a spreadsheet. A typo or a miscalculation can cause an error in the rankings overall. In TeamGenius, players are automatically ranked — in real-time. This lets parents and athletes trust that the rankings used to form rosters are correct.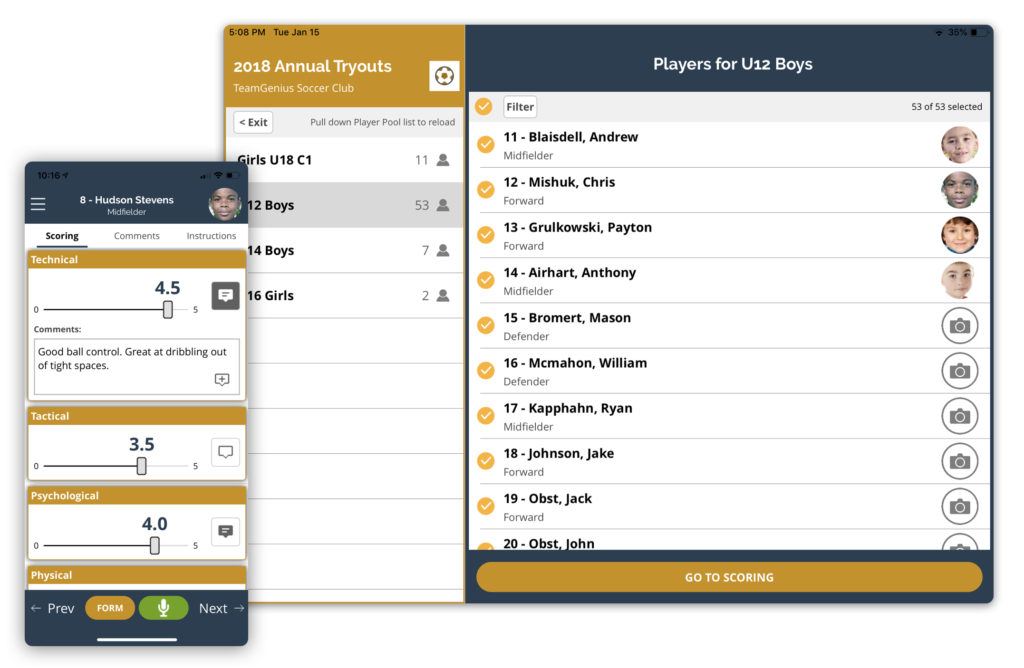 Fewer Biases
Parents and players will almost always worry that there are biases during the evaluation process. Even when outside evaluators are used, there is a chance the evaluator will recognize a player's name and score him or her differently. TeamGenius provides another layer of security to assure athletes and their families that the scoring process is fair. In the application, clubs can opt to only display athletes by their tryout number and hide their name. This means evaluators don't know who they are grading — only their tryout number.
Have you read why Directors of Coaching love TeamGenius yet? Click here.
Quick Results
After tryouts, families endure the dreaded wait for results. Athletes might have an idea on how they performed, but they don't know what the evaluators thought or how they stacked up against others until rosters are released. For clubs who manually calculate scores and rank players, it can be days before athletes are notified of their team placement.
With TeamGenius, players receive results much sooner. Having player scores and rankings available in real-time in the app allows teams to form rosters quickly and send results to athletes faster.
More Transparency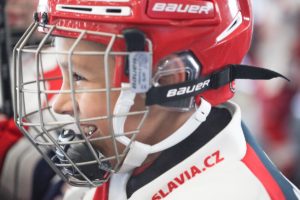 When rosters are announced, players often question their placement. If athletes don't see their individual evaluation results, families don't know how a player performed overall and how he or she ranked.
For clubs who use TeamGenius, athletes are able to see the same scores administrators used to form teams. Clubs are able to send athlete score sheets to each family directly from the platform. This allows for more transparency between players and the team as families are seeing the same scores and information the coaches and directors are using.
Increased Communication
TeamGenius enables more communication between clubs and families. Coaches and directors can send emails to each player directly through the app. This allows news and information to get to players and their families faster. It also allows coaches to send more frequent communication, which allows families to stay up-to-date on team news and events.
More Consistent Evaluations
It's important for athletes to get evaluated by coaches at least once a year. This lets players know how they are progressing and what they need to improve on during the season and for the next year.
The player evaluation process can vary for some clubs. The process in-place might be too time-consuming for coaches to complete regularly. And for coaches who do provide frequent evaluations, the information might be hard for parents to decipher if handwriting is difficult to read or if coaches aren't using a consistent template to relay feedback.
TeamGenius simplifies the process, allowing more coaches to perform regular player evaluations. In the application, templates can be created so coaches can easily evaluate players in a consistent format. This helps athletes improve their skills and progress as players. It notifies players what to work on in the off-season and helps build their profile for future coaches to look at and use.