As former youth athletes ourselves, we believe in the power of youth sports to build stronger young adults and communities. It's through our experiences playing soccer, baseball, football, and basketball as kids that we learned valuable life skills and developed a love for active lifestyles.
Now, as a small company excited about making an impact on the world, we want to ensure that that youth sports experiences like ours are both available and positive for as many kids as possible.
We aim to drive higher participation rates in youth sports by helping organizations to properly form teams at all levels, operate more efficiently, and provide encouraging feedback and development opportunities to players, coaches and referees.
To support these goals, we built TeamGenius, a powerful yet simple software tool for managing tryouts, camps and player development in youth sports.
TeamGenius is headquartered in the land of 10,000 lakes (Minnesota) and led by Co-founder and CTO, Todd Larson, and Co-founder and CEO, Chris Knutson.
For more information, or to inquire about investing, employment, or partnership opportunities, please get in touch with us here.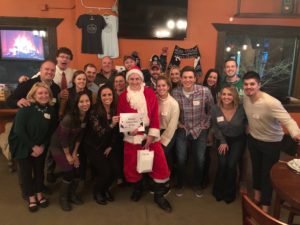 2019 TeamGenius holiday party